---
Ronald McDonald House Charities
October 2017
Since 1974, RMHC has provided vital resources and compassionate care to children and their families being served by leaded hospitals worldwide. RMHC has helped lessen the burden for more than 5.5 million families in 2016.
Click here to learn more about Ronald McDonald House Charities
---
Hunger Fight - 4th Annual Thanksgiving Community Outreach
Friday, November 3 @ 3-5pm
On Nov. 3rd and 4th Hunger Fight will host its 4th Annual Thanksgiving Community Outreach Event. At last years event, over 520,000 meals were packaged for distribution to local food pantries, mission homes and backpack programs all throughout the First Coast. This year, with your help, we aim to package over 800,000 meals!
Click here to learn more about Hunger Fight
---
Dreams Come True - Christmas Family Sponsorship
Kickoff: Week of November 20, 2017
Dreams Come True is the First Coast's only locally-based, wish granting organization dedicated to using the power of a dream to bring hope and joy to EVERY First Coast child battling a life-threatening illness. Since 1984, we have fulfilled the dreams of more than 3,500 children. No child is ever denied a dream and no child is ever placed on a waiting list. We are proud to say that, unless otherwise designated, 100% of all donations go directly toward dream fulfillment.
Click here to learn more about Dreams Come True
---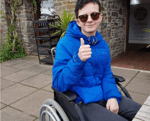 Support Nathan Davies' Recovery from Serious Brain Injury
The cousin of HCI UK-based employee, Rob Davies has been hospitalized with a brain injury for more than one year after collapsing during a boxing event.
Nathan Davies has been hospitalized for more than a year as he continues to recover from his injury.
Please consider donating to support Nathan's recovery efforts by following the link below:
Click here to donate to Nathan Davies' recovery efforts
---