---
Dreams Come True - Dreamer Kickoff BBQ Cookout
Date & Time TBD
HCI is embarking on a new year and a new dream with Dreams Come True. The Dreamer Kickoff will be a family-fun afternoon to launch our journey toward making a family's dreams a reality.
This is a bring your family and have a blast type of event where HCI will be announcing our fundraising goal for the year!
Click here to learn more about Dreams Come True
---
Making Strides Against Breast Cancer
Saturday, October 21, 2017 @ 8am
The American Cancer Society Making Strides Against Breast Cancer walks raise awareness and funds to save lives from breast cancer. Each event is a noncompetitive 3 to 5 mile walk that brings people together to make a difference for everyone who has been touched by breast cancer. The events raise money to fund innovative research, provide free information and support, and to help people reduce their breast cancer risk or find it early when it's most treatable. From the opening ceremony to the post-walk entertainment, a Making Strides event is a celebration of survivors and opportunity to remember loved-ones lost.
Location

: Metropolitan Park - 1410 Gator Bowl Blvd., Jacksonville, FL
---
Hunger Fight - 4th Annual Thanksgiving Community Outreach
Friday, November 3 @ 3-5pm
On Nov. 3rd and 4th Hunger Fight will host its 4th Annual Thanksgiving Community Outreach Event. At last years event, over 520,000 meals were packaged for distribution to local food pantries, mission homes and backpack programs all throughout the First Coast. This year, with your help, we aim to package over 800,000 meals!
Click here to learn more about Hunger Fight
---
Dreams Come True - Christmas Family Sponsorship
Kickoff: Week of November 20, 2017
Dreams Come True is the First Coast's only locally-based, wish granting organization dedicated to using the power of a dream to bring hope and joy to EVERY First Coast child battling a life-threatening illness. Since 1984, we have fulfilled the dreams of more than 3,500 children. No child is ever denied a dream and no child is ever placed on a waiting list. We are proud to say that, unless otherwise designated, 100% of all donations go directly toward dream fulfillment.
Click here to learn more about Dreams Come True
---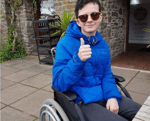 Support Nathan Davies' Recovery from Serious Brain Injury
The cousin of HCI UK-based employee, Rob Davies has been hospitalized with a brain injury for more than one year after collapsing during a boxing event.
Nathan Davies has been hospitalized for more than a year as he continues to recover from his injury.
Please consider donating to support Nathan's recovery efforts by following the link below:
Click here to donate to Nathan Davies' recovery efforts
---