Workspace-as-a-Service (WaaS) provides physicians ubiquitous access by allowing them to remotely access the information they need to care for patients. WaaS also solves the challenge of bring-your-own-device, in which employees use their own computers or other mobile devices for work. This is a common problem for healthcare organizations due to traditional security measures that limit access to data.
WaaS transforms employee experience with secure enterprise access. HCI's WaaS NxT digital workspace solution is a next-generation platform for end users that:
Instantiates unique workspaces, providing flexibility to deliver enterprise apps, data and end-user collaboration solutions in a secure manner for varied work styles seamlessly made available 'as-a-service'
Delivers context-aware and follow-me workspaces on multiple devices with analytics engine, automation and orchestration layer for a true digital transformation
Reduces complexity and clutter of multiple technologies by providing a single platform that brings in best of breed practices in an economic package
WaaS NxT provides healthcare organizations with benefits like:
Reduction in total cost of ownership (TCO) by 40%
Reduction in service requests by 60%
Reduction in desk-support cost by 40%
Time-saving up to 50% through analytics engine, automation and process simplification
Improvement in forecast accuracy through predictive behavior capabilities up to 25%
Reduction in power cost by 60%
Utilization of office space up to 125%
Reduction in desktop and buffered IT capacity by 30%
Quicker decisions with built-in analytics and orchestration engine
Digital transformation impact on 70% of organization's digital footprint
HCI provides agility and efficiency in managing critical IT Infrastructure through its WaaS NxT digital health platform.
Easy Plug-and-Play Services
WaaS NxT has a plug-and-play architecture to service customized end-user requirements and can be built on existing IT investments. This makes it easy for everyone to configure workspace services as per the context and varied profiles. Enterprises will no longer have to undertake long project management lifecycle to onboard key workspace services.
End User Analytics and Business Visualization
WaaS NxT has an built-in, self-learning end-user analytics engine leading to predictable end-user behavior. Workspaces are preset as per the user context and behavior, which helps in using resources optimally. It has highly customizable business-visualization features to create interactive dashboards, views, reports and scorecards.
Enhanced Multi-Tiered and Context-Aware Security
WaaS NxT has context-aware security capabilities as per user's device, identity, network and application usage. The platform enhances the IT security with data protection and multi-factor authentication across data center, storage, network, applications and end-user devices.
Cloud Pod Architecture
WaaS NxT is built on Cloud Pod architecture, which provides high availability and scale-out of virtual workspaces. It provides load balancing across multiple datacenters and enables end-users with roaming access, regardless of their physical locations. It enables onboarding of next-generation technologies on a single platform, which integrates with technology work streams and provides services seamlessly.
Integrated Operations and Service Management
WaaS NxT has a built-in automation engine providing self-heal and self-configure features. It provides monitoring, topology and profile management information for comprehensive bottom-up and top-down performance management. This helps pinpoint and avoid service outages, resulting in enhanced productivity and user experience.
Built-In Cloudburst Capability
WaaS NxT is equipped with built-in Cloudburst capability for scalability and disaster recovery. It bursts workload into the cloud as demand increases, while maintaining control on performance and resource utilization. It allows applications to auto-scale and clone into the cloud and load balance across private and public clouds.
WaaS NxT improves the efficiency of care by allowing healthcare providers and other employees to work effectively outside of their offices through digital Workspace-as-a-Service.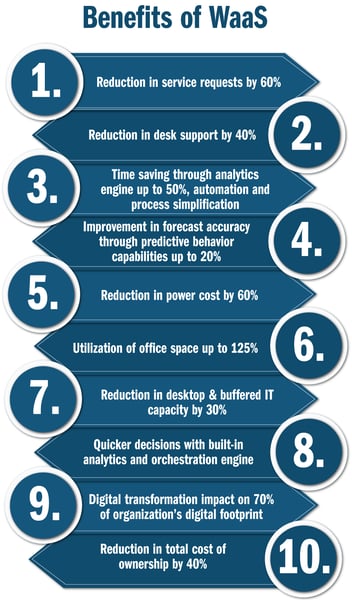 Contact us to learn more about how HCI can transform end-user experience with secure enterprise access through our WaaS NxT digital health platform.