Why Healthcare Project Management?
For the simple reason that it is one of the foundational elements of successful transformation. Without effective project management, hospitals risk losing ground - financially, technologically and competitively - to peers that can move more rapidly to implement the operating processes, clinical procedures, new technology and cross-disciplinary coordinated care required for success in the future state.†
Why a PMO?
PMO services solve organization-wide project delivery challenges. Although PMO functions vary based on corporate culture and business needs, a PMO generally facilitates the sharing of project standards and resources, manages project related governance processes, and acts as a control tower providing portfolio oversight of strategic projects. As a result, PMOs improve Organizational Project Management capability that increase project portfolio performance and business results.
Unfortunately, PMOs from healthcare organizations face significantly more challenges than those from other industries. This could be due to a number of factors including healthcare reform, changing business models, and project complexity. However, statistics reveal that it's most likely due to lower capability.††
HCI's PMO Toolbox offers solutions that increase Organizational Project Management capability, project portfolio performance and business results. Since all organizations have unique culture and business needs, a PMO "one size fits all" approach is not effective or efficient. Therefore, HCI's PMO Toolbox offers an array of scalable Organizational Project Management solutions.
HCI's PMO Toolbox solutions include:
PMO opportunity assessment
Program/Project Management resources
Strategy to Project roadmap
Center Of Excellence (COE) standards
Demand management process
Organizational Project Management governance
Project prioritization methodology
PMO career framework
HCI's PMO Toolbox offers flexibility providing your organization the most value from implementing or enhancing an Organizational Project Management process to developing or improving a PMO structure at the project/program, function/organization or enterprise/strategic level.

HCI's PMO Toolbox provides solutions that increase project portfolio performance and business results with both qualitative and quantitative benefits that include:
Aligning projects to strategy
Increasing project related productivity
Improving project transparency, communication, & decision making
Reducing failed projects
Realizing project cost savings
Shortening project time to market
Enhancing the Customer experience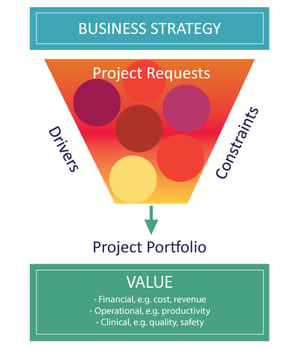 HCI offers an experienced, successful PMO solutions leadership team. Not only do we have a proven track record with IT PMOs in standalone hospitals to Enterprise PMOs (EPMOs) in large complex healthcare systems, but we also bring international experience and best practice from other industries.
Whether in the early stages establishing Organizational Project Management practices to advancing PMO capability for additional business value, HCI PMO solutions can help you achieve your goals.
Sources
† Harvard School of Public Health/TowersWatson - The Hospital Industry in Transition
†† PM Solutions - The State of the PMO 2014