The HCI Epic Service Desk is focused on providing clients with solutions that create value and reduce the operational support cost associated with maintaining and supporting Epic. This is achieved through a blend of advisory services, cross-certified and experienced Epic Analysts, Business Intelligence (BI), Data Analytics, Continual Process Improvement (CPI), an Epic Service Desk (ESD), and Executive oversight.

HCI is uniquely positioned to offer a dedicated, holistic solution for Epic support that extends beyond the Epic Service Desk resulting in improved ongoing support and client satisfaction.
Here are some of the results one Epic Service Desk client achieved in under 9 months:
A 32% reduction in overall Epic incident call volume
A 50% reduction of backlogged Epic tickets aged ≥ 30 days
A 50% reduction in the average time taken to resolve tickets
The key attributes that differentiate the HCI Epic Service Desk include:
Reduction in Epic Ticket Volume – Unlike other market solutions, HCI does not advocate a per ticket pricing model. Through Problem Management and Root Cause Analysis (RCA), HCI partners with the client to both prevent tickets from being originated as well as resolving tickets at the lowest level of support. Through this approach, HCI has consistently demonstrated the ability to reduce incoming ticket volume.

Cross-Certified, Epic Analysts – Knowledge and experience is the key. As part of HCI's Epic Service Desk, analysts are engaged to resolve tickets versus simply catching and dispatching to the client's Tier 2 Epic analysts. This results in a lower open-to-close time, thus improving end-user productivity and satisfaction.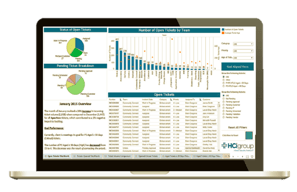 BI & Data Analytics – Visibility across the support spectrum is crucial to lowering support costs. As such, HCI provides an interactive dashboard that takes into account the entire Epic support team (HCI and Client). With visibility into labor distribution, clients are armed with the productivity measures required to make and measure management decisions. Secondly, it is through robust BI and Data Analytics that Problem Management and RCA is achieved; which is often lacking within a standard IT Service Management (ITSM) toolset alone. Lastly, HCI mines and correlates the ticket data in search of training deficiencies and opportunities to close those gaps in the spirit of the common goal to reduce ticket volume.
Continual Process Improvement – Through an ITIL framework for ITSM, HCI takes a complete look at the support model from an end-to-end process versus being exclusively focused on just the HCI delivery of an Epic Service Desk. With an eye toward continuously strengthening the processes and taking a collaborative approach with its clients, HCI has proven to be able to move to the proverbial needles for ticket and backlog reduction, SLA adherence, open-to-close time, and a shift from incident and maintenance to that of enhancement opportunity.

Client Engagement Manager (CEM) – A dedicated CEM is assigned for the day-to-day management of service delivery and operations. The CEM is backed by the HCI Sustain management team with clearly defined escalation paths. This undiluted focus is what allows for the delivery of outstanding service and more importantly, results.