HCI Epic EMR Training Life Cycle: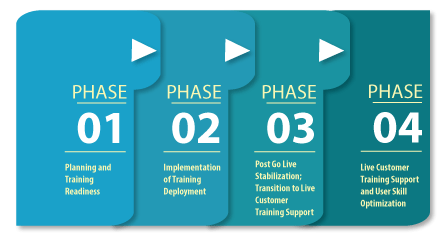 Phase 1 – Planning and Training Readiness
This phase of the project has a long duration and begins during the discovery or pre-work phase. Phase 1 continues until the formal implementation of training deployment when proficiency is measured and attendance is tracked.
During this phase, we gather and share information with operational and IT leadership stakeholders as well as potential credentialed trainers, super users and end users. The tasks and events in this phase are aimed at setting a clear plan with stakeholders we can jointly execute on. The desired result is for end users to gain exposure to the new technology within the context of their workflows. These activities are aimed at ensuring awareness so that changed behavior accompanies a new technology occurs prior to the beginning of formal learning.
This phase covers why that needs to proceed how.
Phase 2 – Implementation of Epic EMR Training Deployment
The implementation phase begins with train-the-trainer sessions and ends when the end users begin to use the technology on the job for the first time, i.e., on Go-Live day. With our large Epic implementation training programs, critical success factors include:
The accuracy and reliability of the logistics planning
The willingness of faculty members to collaborate with the super users and adhere to the facilitation and coaching techniques and
The completeness of the role based curriculum and training environment.
Feedback loops are important to ensure success during this phase and gather information for improvement in future programs.

Phase 3 – Post Go-Live Stabilization & Transition to Live Customer Training Support
Stabilization is that time when the organization has a chance to "catch up with itself." During this time, the HCI Epic EMR training team provides stabilization-training support and avoids moving too quickly into ongoing support where fewer IT team members will be assigned on site day by day. In typical, large-scale technology implementations, end users begin with minimal proficiency with the tools and need additional training and support for a period of time to gain muscle memory and stabilize their new knowledge and skills. Users are trying to remember what they learned prior to go-live and apply to real life situations.
This transition for the end user is occurring at the same time the transition of the training program is moving from the implementation team trainers to the Live Customer support group. The primary role of the implementation training team during this time is to provide continuity for the learning program as it moves from implementation to steady state and help users move from having minimal proficiency to intermediate proficiency with their role based technologies within the context of integrated team workflows. This often includes supporting some retraining efforts as the operational workflows may change to gain increased efficiencies on the units.
Phase 4 – Live Customer Training Support and User Optimization
Live Customer Training Support and User Optimization will begin when stabilization ends. We know we are there when end users demonstrate they are comfortable with their new roles and routines and are ready to become more efficient with using the technologies within the context of their workflow. It is during the training support and optimization phase that the organization begins to realize benefits through efficient use. This is a slow process with the trend line moving at a different pace with different roles but always in an upward direction.
During this phase, the Live Customer Training Support team will collaborate with different groups throughout the organization to provide targeted training for workflow and system functionality improvements.

For career opportunities please click here.